Description
These GOURMET cookies come individually wrapped and boxed with care. Perfect for gifts, parties or to snack on while binging some Netflix!

This is quickly becoming one of our most popular cookies...
Delicious cookies made with real lemon and white chocolate chips!
Perfect for any occasion. This might be our best cookie yet!
Our Lemon cookies have received some of the greatest reviews out of all of our cookies.  You will be very pleasantly surprised when you try one.
If this is a gift and you would like to provide a note along with the cookies or any other special instructions, there is a block on the cart checkout page where this information can be provided.  We will include the note on the packing slip (packing slip does not show the price.)
To see a list of ingredients, click here. 
All cookies are guaranteed fresh or your money back. Please allow 1-2 days order processing time in most cases unless noted otherwise at the top of our homepage.  

PEANUT ALLERGY? In order to be safe for those with peanut allergies, we bake once per week in an environment where only cookies containing no nut products are produced. We strive to do our very best to sanitize our bakery after each baking session but we are not a nut-free facility. Your cookies may take longer to ship due for this reason. 
Customer Reviews
Write a Review
Ask a Question
Filter Reviews:
cookies
mother
virus situation
veteran
Father's Day
care center
lemon
treat
bite
link
07/05/2020
Dominic
United States
Lemon cookies
Lemon cookies Really good couldn't stop eating them highly recommend my view were more viewers to order the lemon cookies you won't regret it.
07/02/2020
Patricia M.
United States
Delicious
I ordered them on Monday June 15 as a gift for my dad for Father's Day. He was in a care center. He was an Army veteran. And I chose Operation Cookies for that very reason since they support vets. He died unexpectedly the following day. He loved cookies and he also liked lemon. I ordered the classic chocolate chip but also tried the lemon as an extra special treat. When the cookies arrived that Friday, which would have been in plenty of time for Father's Day, we picked them up from the staff. The family all enjoyed the cookies in his memory all that weekend. It brought a little joy into a sad situation. With every bite we knew how much Dad would have enjoyed them. Of course the classic chocolate chip were great, but the true hit was the lemon cookies. Absolutely delicious. I posted a picture on my Facebook page of the cookies and the great wrapping paper on the boxes for Father's Day too. I recommended the cookies and posted the link to the website explaining that the company is vet owned and supports vets. I will absolutely order from Operation Cookies the next time I need to send a gift. Or even if we need a treat once win awhile for our household. You will not be disappointed.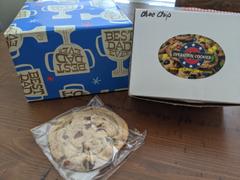 06/19/2020
Leslie H.
United States
Mom Loved Angie's Lemon Cookies
Despite postal delays due to the virus situation, these cookies arrived on time and my mother absolutely loved them.
06/08/2020
kelly c.
United States
Fast Shipping, Delicious Cookies, Lovely Customer Service
Highly recommend this company & we WILL be returning customers! We were told (by multiple sources) these cookies were delicious. They shipped quickly. AND we were very happy with the customer service we received. Great company. Great Family. We will be back to reorder!
06/07/2020
OPAL M.
United States
Delicious! Will order again! Thank
Delicious! Will order again! Thank you!